FÖRESTÄLLNINGAR

Out of Bounds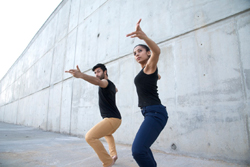 With strong foundations in Indian classical dance and Kalaripayattu martial arts, Revanta Sarabhai has developed a movement vocabulary that brings together the expressiveness of Bharatanatyam with the dynamic energy and geometry of both styles. In Out of Bounds, Revanta, along with dancer Pooja Purohit, presents a series of solos and duets showcasing the exquisite technique of Bharatanatyam, in both traditional and contemporary explorations, along with other recent works that chart new territories in South Asian dance.
Revanta Sarabhai is rooted in traditional bharata natyam, martial arts and performance arts and strives to create cutting-edge work that is immersive and responsive to the society and times we lives in. His work has been showcased at Southbank Centre's Alchemy Festival (UK), Korzo Theatre's Cadance Festival of Modern Dance (NL), Europalia (BE), and Attakkalari Biennale (IN).
Pooja Purohit joined the Darpana Academy of Performing Arts in 2008 to pursue a professional career under the tutelage of Dr Mallika Sarabhai. With Darpana, Pooja expanded her performance vocabulary to contemporary dance, Kalaripayattu martial arts, theatre & voice, and aerial work. She has performed in numerous productions with the professional company across India, the Middle East, Europe and America.
Out of Bounds – Trailer
Se hela programmet för
Stockholm Sangeet Conference 2015
.
När
Söndag 4 oktober 2015
Var
Musikaliska