WORKSHOPS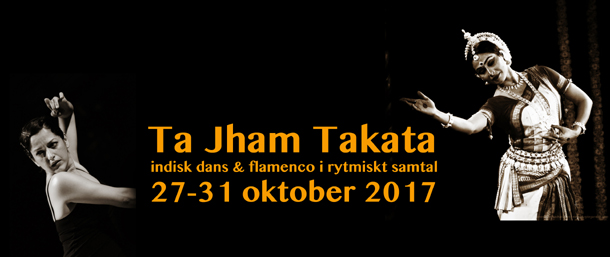 Flamenco Body Music workshop med Yiota Peklari
Helgkurs 28-29 oktober 2017
Kursen med Yiota Peklari är tyvärr inställd pga skada.
23-25 mars 2018 är Yiota tillbaka i Sverige för att ta igen dessa dagar.
The course with Yiota Peklari is unfortunately cancelled due to injury.
Yiota will be back in Sweden March 23-25th 2018 to recoup these days
Yiota Peklari är en av de mest aktiva och innovativa flamencoartisterna i Grekland med bakgrund förutom i flamenco, även i kroppsmusik. Under 4 timmar får vi verktyg att genom klassisk sydindisk Carnatic tradition ge oss in i flamencons multulagrade rytmik i stilen Bulerias.

NIVÅ: Kursen är öppen för perkussion dansare
TID: 28/19 kl. 12:00-14:00, 29/10 kl. 14:00-16:00
PLATS: Kungsholmen, bekräftas vid anmälan
PRIS: 700 kr
ANMÄLAN: hej@flamencofredag.se

» Kursinfo på engelska (PDF)

Odissi avancerad nivå med Sujata Mohapatra
Intensivkurs 29-31 oktober 2017
Sujata Mohapatra är en av de främsta och mest eftertraktade lärarna inom Odissi- östindisk klassisk dans i Guru Kelucharan Mohapatras tradition. Under 3 halvdagar kan du som är på avancerad nivå finslipa både teknik och abhinaya (uttryckande dans) samt lära dig en hel koreografi för Sujata.
TID: 29/10 kl. 13:00-17:00, 30/10 kl. 10:00-14:00, 31/10 kl. 9:30-13:00
PLATS: 29/10 Melodybox, Mejselvägen 33 (nära Telefonplan)
30-31/10 Layali, Dalagatan 64 (T-bana Odenplan)
PRIS: 2800 kr (inkl. musik)
ANMÄLAN:
info@odissi.se
Odissi intensive workshop for advanced dancers 29-31th October 2017
Eminent Odissi guru and dancer Sujata Mohapatra, visits and performs in Stockholm for the first time. She will give a three day intense Odissi workshop on an advanced level in Kelucharan Mohapatra style. Take this rare opportunity to polish your technique and abhinaya as well as learn a new item with Sujata.
Date and Time: 29/10 1.00 pm- 5.00 pm, 30/10 10.00 am-2.00 pm 31/10 9.30 am-1:00 pm
Place: Melodybox, Mejselvägen 33 (T-bana Telefonplan)
30-31/10 Layali, Dalagatan 64 (T-bana Odenplan)
FEE: 2800 SEK
REGISTRATION:
info@odissi.se